Exit Strategy Consulting
If you're looking for exit strategy consulting for your business, you want the very best. Exit planning is crucial to all business owners and you want to make sure you get out at the best time possible.  This is likely a trying time for you and your business, not to mention the giant crossroad you currently stand at. The good news, there's a light at the end of the tunnel and we can help you get there.
Decades Of Exit Strategy Experience
Exit Strategy USA has decades of experience providing exit strategy consulting services here in Louisiana and all across the United States. We've worked with hundreds of business owners and financial analyst over the years. At ESU, you're in good hands, working side by side with our exit strategy team. Entrepreneurs live to launch their business, but few ever consider their exit plans. I'm sure many don't look years down the road. But no matter why you're exiting your business, our exit strategy consulting services will help you make a solid plan for your exit.
It doesn't matter if you need 8 hours of support, a month of support or a year, our exit strategy consultants can provide the support you need. We'll help you build an exit plan to get you on the right track and help you during the transition. While the options at this point may feel far in between, it's never too early or late to exit your business. It's all about timing and we've been helping business owners time it right for decades.
Numerous Exit Strategies Available
There's a variety of different exit strategies that may make sense to your business. Going public, liquidation, selling, all of them are viable options when you create your exit strategy. Each type of exit strategy has pros and cons, taking the good with the bad. At Exit Strategy USA, we look through your entire business and analyze it from top to bottom.
Our Exit Strategy Consultants
With a combined 100 years of business experience between our top two exit strategy consultants, we've helped hundreds of business owners plan their exit. You have nothing to lose by calling us for a free quote, we'd love to discuss your business. Contact Mike Heffner or Daryl Schouest today at (337) 418-9290.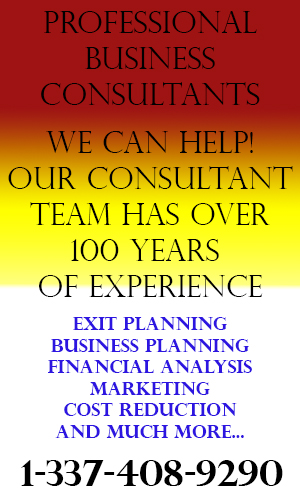 ---